Photo Credits: CBS Sports
A few days ago Jamaal Charles said on a TMZ interview,"Some of my numbers already look better then some of the people in Canton", and has sparked a debate between Chiefs and NFL fans.
Jamaal was drafted by the Kansas City Chiefs in 2008 and went on to play for his beloved team until 2016. After being released by the Chiefs and coming off difficult knee injures, he had short unsuccessful stints with the Broncos and Jaguars.
Today, Charles is unsigned but has not officially retired yet. He is open to playing again but not many teams want a 32 year old running back with crushing knee injuries in the past. Jamaal will always be remembered as a Chiefs legend, but will he be remembered in Canton? Lets get into the argument for both sides of the debate.
Photo Credits: Times Union
The Case for Yes;
The Stats: Jamaal went to 4 pro bowls and had 2 first team all pro seasons. He was the main vocal point of the Chiefs offense from 2009-2014. In that time, which is also clearly the prime of his career, he rushed for over 1,000 yards in 5 of 6 of those seasons. The only season he didn't was when he missed the 2011 season with a torn ACL. In that time period he also added at least 250 yards in the air and had at least a total of 6 touchdowns in 5 of 6 of his prime seasons. Its also extremely important to note that is 5.5 yards per rush is the NFL record all time. Yes, that is his leading point as he has something else no other hall of fame running back has.
He Carried his offense: Everyone reading this also has to understand his situation also. He had no offensive help around him until he had a young Travis Kelce in 2014 by his side. Sure Dwayne Bowe had a solid 2010 season, but it only earned him a pro bowl. Bowe could not find any consistency and never made another pro bowl. Charles had to deal with Todd Haley and Matt Cassel as his quarterback-coach duo, which is arguably the worst in Chiefs history. Charles never had another all pro by his side and did not get to play with a well functioned team until Andy Reid and Alex Smith came. Even when they came to save the Chiefs, Charles still carried a weak Chiefs offense to the playoffs in 2013 with nearly a 2,000 yard total and 19 touchdowns. Charles never had a top 10 quarterback, receiver, or tight end(except for that one season with Kelce) and only had a top 10 head coach for 2 solid years.
His numbers are better then some already in Canton: After years of grind Charles has a total of 10,156 yards and 64 touchdowns between receiving and rushing. Terrell Davis, who was inducted in the 2017 hall of fame, only had 8,887 yards and 65 touchdowns total. Its also important to note that Davis had a top 5 quarterback all time, a great head coach, and was part of 2 Super Bowl winning teams. Davis had 1 less pro bowl but 1 more all pro then Charles. Clearly, Charles has hall of fame numbers according to the induction of Terrell Davis. Also to keep a 5.5 yards per rush over 11 seasons in the NFL is something no one else has ever done. It is not like this man was a backup, he was a starting running back for 7 of those seasons. If Terrell Davis is in the Hall of Fame, shouldn't Jamaal Charles also have his moment in Canton?
Photo Credits: Raiders Wire
The Case for NO;
He has no playoff or Super Bowl wins: Technically he does have a playoff win in the 2015 wildcard, but he was out for that season with a torn MCL. Charles was never close to even making a Super Bowl as the two playoff games he played in were two Chiefs losses in the wild card. Almost every running back from Emmitt Smith to Terrell Davis won a Super Bowl giving them more of an iconic presence. Though there are some outliers going in Charles favor with Eric Dickerson and Barry Sanders leading that charge. Voters may pass on Charles due to no playoff impact and being stuck on awful teams.
He had a rough final 4 years: Week 5, 2015 against the Bears was the beginning of the end for Jamaal Charles. He tore his ACL that day and was out for the rest of the season. He attempted to make a comeback the next season in week 6, but was put back on injured reserved within the next two weeks and never put a Chiefs jersey on again. He had less then 600 total yards in those two seasons and continued the misery when the Chiefs decided to let him go. Later in the 2017 off season he was signed by the Denver Broncos. His one season run was anything but memorable as Charles started no games and totaled under 500 yards. He was let go and many thought this was the end of Charles's run in the NFL until early in the 2018 season. In the wake of Leonard Fournette's injury the Jaguars gave Charles a chance as a supporting role. Charles had 14 yards and was let go a few weeks later. A rough ending to a great career that voters will not forget about.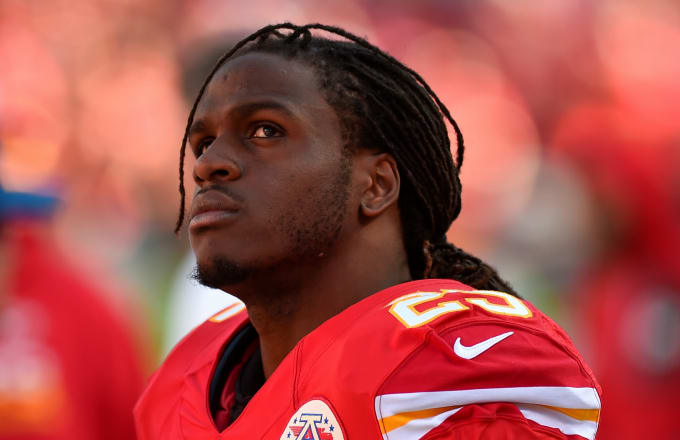 Photo Credits: Complex
Conclusion;
While I do not think Charles with be a first ballot hall of famer, I think he will eventually be inducted into the NFL dream land. I think the positives of his career out weigh the negatives. Jamaal is a positive guy and never caused a problem. He was the best of the best in the NFL when he was at a healthy prime. I believe the importance to his offense and his production throughout his 11 year career should propel him into having the chance to speak at Canton. Jamaal Charles is only 32 and is still hopeful to continue his career, but the question of hall of fame contention will always loom around him until the voters give him a chance to be a NFL legend.
Here is arguably his best career game;