Kansas City Chiefs 2019 Season Record Prediction
The Kansas City Chiefs are coming off a heartbreaking loss against the Patriots in the 2018 AFC Championship. The way Andy Reid's team lost is what made it an unforgettable defeat. First, Dee Ford went off-sides on a play that Tom Brady threw an interception which would have lead to a Chiefs win. Second, Patrick Mahomes never got to see the field in overtime leading to Tom Brady's 9th Super Bowl appearance. This was easily one of the most stressful and frustrating losses of Andy Reid's underachieving career leading to a defensive overhaul in the 2019 off-season. The Chiefs first let go of 6-year defensive coordinator, Bob Sutton, and immediately replaced him with former Giants defensive coordinator, Steve Spagnuolo. The well-needed change also comes with a scheme to adjust from 3-4 to 4-3. Steve has had an up and down career but has shown he can over think the Patriots offense like in the 2007 and 2011 Super Bowls which he held Tom Brady to 14 and 17 points respectively.
Also, Brett Veach, Chiefs general manager, let go of Chiefs legends in Eric Berry and Justin Houston. While this was disappointing for many Kansas City fans, many understand that their lack of consistency and their insane contracts, that they did not live up to, meant it was time for a new era to arrive. That came in the form of former first team all pro-Tyrann Mathieu and underrated pass rusher Frank Clark. Tyrann Mathieu, also known as the "Honey Badger", has finally shown he can be healthy for back to back seasons. This is something Eric Berry has not been able to do since the 2015 and 2016 seasons. Frank Clark, on the other hand, has had 8.5 more sacks then Justin Houston in the last 3 seasons and is coming off a career year. The Chiefs also traded Dee Ford to the 49ers for a second round pick in 2020. Out of 5 seasons in the league, Ford never showed any kind of elite consistency. He had solid double-digit sacks in 2016 and 2018 but looked like an all-time draft bust in 2014, 2015, and 2017. Brett Veach and Andy Reid simply wanted a player that provided more stability at the position and someone who better fit the scheme. The Chiefs also traded for Emmanuel Ogbah, a decent run stopper who had an average season according to PFF, while giving up Eric Murray, a safety that never really made a game-changing impact for the Chiefs. The Chiefs also picked up Alex Okafor(DE) and Brashaud Breeland(CB) to bring more depth to the defensive veteran crew. Most recently the Chiefs sent a 6th round pick to the Jets in exchange for rising linebacker Darron Lee. I believe this trade will be looked at as an underrated move by the end of the season and if you would like to see me go into more detail about this go ahead and click the link below to read my article about the move.
Finally, during the draft, the Chiefs selected Mecole Hardman(WR), Juan Thornhill(S/CB), and Khalen Saunders(DT) with their first three draft picks. All these guys have a ton of potential and all should have a chip on their back to replace the guys before them.
To sum it all up the Chiefs beefed up their defense with younger developing players. The players they traded for and signed also should benefit from the new scheme. This could also bring the best in players like Anthony Hitchens(ILB) who played in the 4-3 scheme before he came to Kansas City. This is a Super Bowl or bust team. Nothing less then the Super Bowl would be acceptable as the defense looks the best its been since 2016 and the offense will still be a threat no matter what happens with Tyreek Hill. So let's get into the predictions for the Kansas City Chiefs 2019 season.
*As of now, I'm assuming Tyreek Hill will at least play the majority of the season because the NFL has yet to release a statement and Hill has not been charged with anything.
Week 1: Chiefs@Jaguars
Prediction:
Chiefs win 28-17
Explanation:
Andy Reid is 5-1 in home openers with the Chiefs and I think that continues successfully. I think that the Chiefs go into Jacksonville against an unknown Jaguars team and control the game. I say unknown because no one has any idea how Nick Foles will play with the Jags and its fair to think that their defense may not be as dominant as seasons pasts. I believe Foles will get it going late in the season with the Jags, but struggles in this game throwing two or more interceptions to secure a Chiefs Win.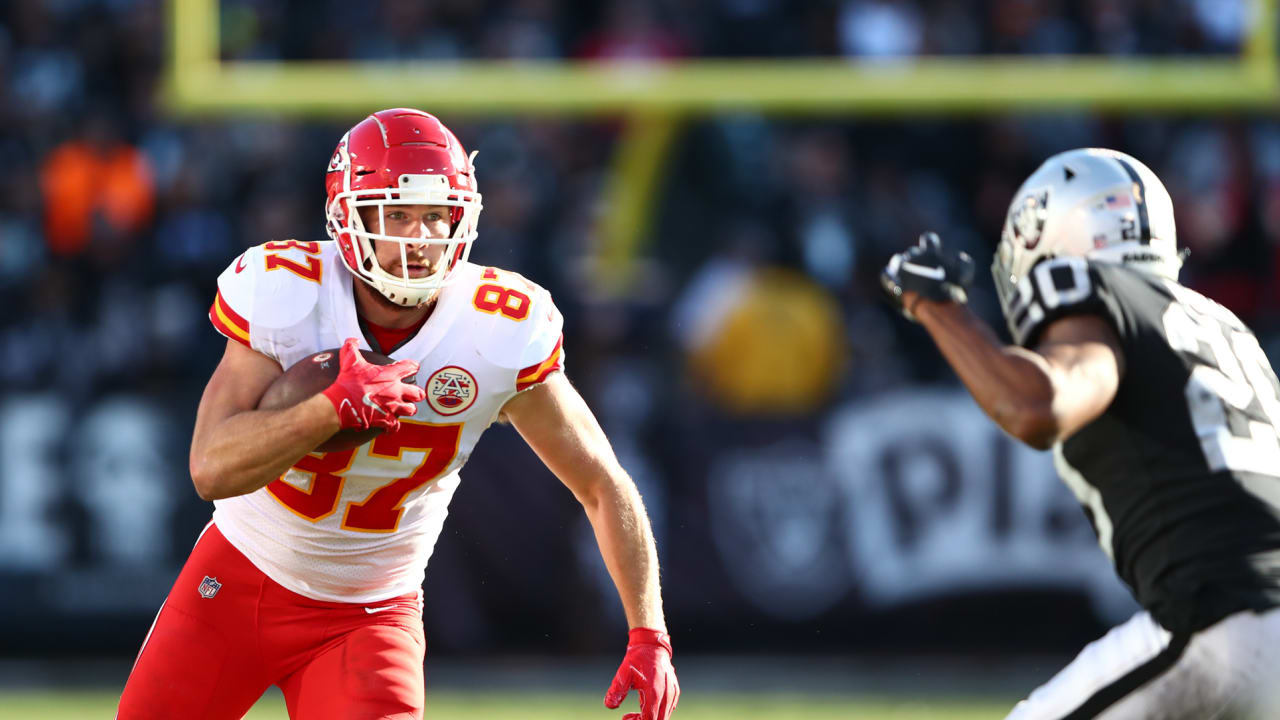 Week 2: Chiefs@Raiders
Prediction:
Chiefs win 38-24
Explanation:
While the Chiefs have occasionally struggled in Oakland with loses in 2014 and 2018 on Thursday Night Football under Andy Reid, I think the Raiders still will not be able to control the Chiefs offense. Patrick Mahomes should lead the young Chiefs team to a blow out against the Raiders. The Raiders have improved, but still, do not have enough elite players to compete with the Chiefs.
Photo Credits: NBC Sports
Week 3: Ravens@Chiefs
Prediction:
Chiefs win 31-14
Explanation:
The Ravens have lost to much speed and leadership on the defensive side of the ball and have not replaced it well enough. Remember Earl Thomas is coming off a season-ending leg injury. The losses of consistent pass rusher Terrell Suggs, the multi-year signal caller Eric Weddle, and top 5 inside linebacker CJ Mosley will be too much for the Ravens to get back to their 2018 success. That will first show when they are not ready to face the Chiefs on the road when they get blown out. In a shocking game compared to the Chiefs-Ravens game last year, this year Lamar Jackson struggles against a revamped Kansas City defense. The Ravens are not a terrible team, but they are now to inexperienced to consistently compete with teams like the Chiefs.
Photo Credits: ProFootballTalk-NBC Sports
Week 4: Chiefs@Lions
Prediction:
Chiefs win 28-20
Explanation:
The Lions keep it close because of Matt Patricia's tough defensive style, but the Chiefs win with a late touchdown. The Chiefs rarely go to Detroit to play a game so that also contributes to the close score. Lions have beefed up and are definitely a better team, but are not quite ready to beat playoff teams. Matthew Stafford is 9-62 against winning teams and his team is not gonna start a run of beating credible teams here.
Photo Credits: Arrow Head Addict 
Week 5: Colts@Chiefs(SNF)
Prediction:
Chiefs win 35-24
Explanation:
Colts look for revenge at Arrow Head after the 2018 divisional game but fail to keep up with the Chiefs offensive power and come up short in this highly anticipated rematch. The Colts give their defense a chance this time, unlike their embarrassing  13 point performance against the Chiefs last year, but it's not enough to overcome the reigning number one seed of the AFC.
Photo Credits: Chiefs Wire-USA Today
Week 6: Texans@Chiefs
Prediction:
Chiefs win 29-28
Explanation:
In the first of what looks to be many, the Mahomes-Watson rivalry will begin with a thriller. With a mixture of good defensive and offensive play, the game will come down to a game-winning drive crafted by Andy Reid. Travis Kelce catches a late touchdown to make it 27-28. Andy Reid then makes the lose or win call on a 2 point conversion attempt. Mahomes runs it in and the Chiefs win the game of the year candidate.
Photo Credits: 9news.com
Week 7: Chiefs@Broncos(TNF)
Prediction:
Chiefs lose 23-21
Explanation:
Coming off a few weeks of close games, a short week, on the road against a division rival, and on a 6-0 streak, this game has the perfect elements for the Chiefs to go into Mile High and get upset by the Broncos. Denver is not the better team, but they ride some momentum and a roaring crowd to a game they won't forget. Also, the Chiefs have not lost to the Broncos since week 2 of the 2015 season, so it's about time for the Broncos to overcome the hump on a game-winning field goal.
Photo Credits: Chiefs Wire-USA Today 
Week 8: Packers@Chiefs(SNF)
Prediction:
Chiefs win 34-27
Explanation:
Coming off a long week, the Chiefs will be well rested and reloaded for another playoff contender. The Packers did a solid job of a mini-rebuild in the 2019 offseason with smart moves and a solid draft. Aaron Rodgers will keep his team in the game until the end, but the Chiefs will ride early touchdowns to a Sunday Night Victory.
Photo Credits: Kansas City Star 
Week 9: Vikings@Chiefs
Prediction:
Chiefs win 26-17
Explanation:
The Vikings are an extremely talented team, but they have one flaw, their quarterback. Kirk Cousins will bring his team down and cause them to not be able to go on the road and win big games. The Chiefs will control this game by two possessions throughout and continue their destruction at Arrow Head.
Photo Credits: NBC Sports
Week 10: Chiefs@Titans
Prediction:
Chiefs lose 26-24
Explanation:
There is something about the Titans that the Chiefs just cannot overcome. Since 2014 the Chiefs are 0-3(all at home) against the Titans. Maybe it's in Andy Reid's head, but this year the Titans are looking better than their playoff team 2 years ago. The Titans will compete a lot more than most think and they prove that after a well-fought win against the Chiefs.
Photo Credits: Arrowhead Addict
Week 11: Chiefs@Chargers(MNF in Mexico)
Prediction:
Chiefs win 26-20
Explanation:
These are two unbelievably talented teams competing in the same division. Both have improved in the offseason with well-built drafts and team fitting signings. Where I give the edge to is coaching. Andy Reid is a much more experienced coach for these situations and has dominated the Chargers since 2014. After a bought that brings this game to overtime, the Chiefs win on the first possession ironically after their overtime rule did not pass.
Photo Credits: SB Nation
Week 12: Bye Week
Is it a good time for a bye week?
Yes, this is a great time for a bye week. The Chiefs will need to rest after hard-fought games against the Chargers and Titans, while also a perfect time to start prepping for away games in New England and Chicago.
Photo Credits: Kansas City Chiefs
Week 13: Raiders@Chiefs
Prediction:
Chiefs win 42-10
Explanation:
Not gonna go into much detail here. The Chiefs are riding a ton of momentum and coming off a bye week. Also at this point, the Raiders season is probably over, so easy win for Kansas City here. The Chiefs will most likely overlook this game and wait for their trip back to New England.
Photo Credits: Arrowhead Addict
Week 14: Chiefs@Patriots
Prediction:
Chiefs lose 31-30
Explanation:
After another respectable effort by the Chiefs, they once again lose on a last-second field goal in a soul destroying loss. The Chiefs will learn a lot from this game and will use it for their AFC Championship rematch later in the year.
Photo Credits: Buffalo Rumblings 
Week 15: Broncos@Chiefs
Prediction:
Chiefs win 38-20
Explanation:
Much like the Raiders, at this point, the Broncos season will be over and the Chiefs will trample over them. Frustrated from the loss in New England, they hold nothing back against the Broncos and send them home crushing their hopes of spoiling the Chiefs season.
Photo Credits: 247 Sports
Week 16: Chiefs@Bears(SNF)
Prediction:
Chiefs win 23-16
Explanation:
The Chiefs have not seen a defense like this, but their own defense will hold of Matt Nagy enough for Andy Reid to figure something out and win the game on a late touchdown. This will officially bust the myth that Mahomes cannot win games, as I think the Bears will be a top 3 seed at this point in the NFC. Matt Nagy cannot beat his mentor just yet.
Photo Credits: Fanduel 
Week 17: Chargers@Chiefs
Prediction:
Chiefs lose 31-14
Explanation:
The Chiefs will sit their starters after earning the number one seed without risk of losing it after their win in Chicago. This will result in a blow out from a starting Chargers team fighting for a wild-card spot.
Photo Credits: The Kansas City Star
Chiefs overall record: 12-4
Playoff Seed: #1
Team MVP: Patrick Mahomes
Mahomes will not have the stats he did in 2018, but will still be the foundation of the offense and the glaring reason the Chiefs are the best team in the AFC.
Team Offensive Player of the Year: Travis Kelce
I think Kelce will have another all-pro season and lead the team with receiving yards and catches. Kelce will solidify himself even more as the best tight end in the NFL and begin to make his case for the Hall of Fame.
Team Defensive Player of the Year: Tyrann Mathieu
The Honey Badger will live up to his contract and boost the Chiefs defense into the top 15 and will get himself back to a pro bowl.
Team Comeback Player of the Year: Daniel Sorensen
Sorensen came back midway through last season and did not look himself. After a full offseason of recovery, "Dirty Dan" will get back to his 2016 form and create game-changing plays.
Team Offensive Rookie of the Year: Mecole Hardman
There are only two options here, so I'll go with the speedy receiver out of Georgia. He will be a solid return man and have decent stats in the slot.
Team Defensive Rookie of the Year: Juan Thornhill
Much like Marcus Peters a few years ago, I think Juan Thornhill is a Dark Horse for defensive rookie of the year. I think he ends up leading the team in interceptions while impressively playing two positions(CB/S).
Team Breakout Player of the year: Damien Williams
In only 5 starts(including playoffs), Damien Williams played just as good as Kareem Hunt having 684 total yards with 11 touchdowns. He was playing like an all-pro running back at the end of last year and with a full offseason of preparation as a starter, he has his first 1,000-yard season.
Team Disappointment of the Year: Frank Clark
This one is easy to predict. He won't have a terrible season, but will most defiantly not live up to that insane contract.
Playoff Predictions:
Photo Credits: The Daily Gazette
Divisional Round: Steelers@Chiefs
Prediction:
Chiefs win 33-23
Explanation:
2 years ago the Chiefs lost to the Steelers 18-16 in the divisional round. The Chiefs scored two touchdowns and the Steelers scored 6 field goals. Unbelievable. After a bounce-back season for the Steelers that I have them winning in the Wild Card against the Chargers. The Chiefs get their revenge after having nearly 3 weeks to prepare with a heart-pounding win. The Steelers shock everyone with a few early scores, but the Chiefs fight back and have a dominant second half.
AFC Championship: Patriots@Chiefs
Predictions:
Chiefs win 28-24
Explanation:
Ever since Joe Montana left town, there seems to have been a curse set on the Kansas City Chiefs. The Chiefs saw games like when they lost 10-7 after Lin Elliot missed 3 field goals in 1995, like when Elvis Girbac fell apart against the Broncos in 1997 and lose 14-10, like when the Chiefs didn't punt the entire game and still lost against the Colts in 2003, like when Matt Cassel handed the Ravens the win in 2010, like when the Chiefs let a 28 point comeback happen against the Colts in 2013, like when the Chiefs didn't let the Steelers score a touchdown and still lost 18-16, like when they let up a 21-3 lead against the Titans and lost, or most recently like when Dee Ford went offsides on what would have been a game-winning interception against the Patriots and ended up losing.
After years of mental torture, the Chiefs finally overcome the Super Bowl hump led by Patrick Mahomes. The Patriots go in with a strong running attack, but Tom Brady will throw the interception he should have the season prior on a possible game-winning drive. The Arrowhead curse will officially be declared over.
Photo Credits: Packers Wire-USA Today
Super Bowl 53: Chiefs vs Packers
Prediction:
Chiefs win 38-34
Explanation:
52 years later after the Chiefs fell to the Bart Starr led Packers in Super Bowl 1, the two most talented quarterbacks explode into a shootout. I think the Packers shock everyone in the 2019 season and make a run to the Super Bowl. Although I think they come up short, the Packers will put up a hard-hitting fight. The two teams will be close score wise throughout the game until the Chiefs score late and stop a game-winning drive attempt by the future Hall of Famer, Aaron Rodgers. Andy Reid finally gets his Super Bowl win and rides off into retirement letting Eric Bieniemy take over the team.
Photo Credits: KC Kingdom
Overall Season Review:
To Conclude, I think the Chiefs bounce back from their shocking AFC Championship loss with the franchises first Super Bowl win since 1970. While the offense will not be as dominant as it was in 2018, the defense will jump to top 15 and create a dynamic team that can win in many ways. Recently Andy Reid said to Dwayne Bowe(Former Chiefs Receiver), "This year out of the years feels real different", reported on TMZ, and I agree with him. This might be Andy Reid's best chance to win a Super Bowl and I believe he achieves his coaching dream.
Head of The Talk Sports Media.